Contact

Address:
Zhengzhou city in China.

Phone:
0086-371-86151827

Email:
[email protected]
Steel structure box column
Box column has good stability, applicable to places where surface requiring higher stability. The box column is developed in recent years as a type of new structure form. It's using range is becoming more and more wide, includes heavy industrial buildings, large steel frame, operation platform, high-rise buildings and so on. It can be processed according to the engineering curve of variable cross section and other special forms.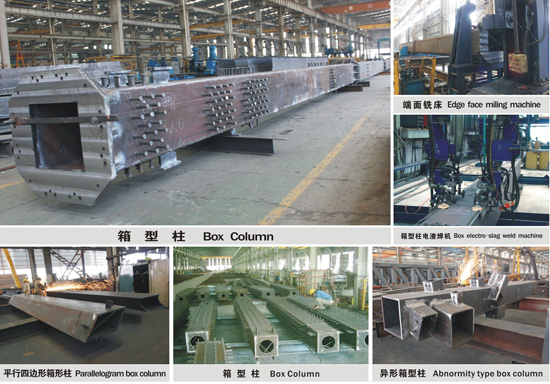 We can provide fabrication or installation or EPC construction service based on the information and the requirements from Client.
Material standard: Q235Q345 based on China material standard.
Technical specification for Welding of steel structure of building
Manual ultrasonic testing of steel weld testing methods and results of classification etc.
Industry: workshop, warehouse, and other industrial facilities.
Commerce: mall, hotel, exhibition hall, hospital, office building.
Public: the social activity center, school, library, sports stadium, church etc.
If client can provide the following information in his inquiry, it will be very helpful:
Design drawing or fabrication drawing if you have.
The design load : wind load, snow load, raining condition, geological condition, aseismatic requires.
The dimension: length, width, height at least
The function of building, and if need the interior equipment
The class of building: the high ,the middle or the low class
The special requirement on function: such as plumbing and electric equipment etc.
We are professional in
supplying steel structure box column
, we can independently accomplish milling, planning, grinding, rolling, pulling, boring, holing, drilling, cutting, bending, and blasting, also heat treatment, the works we accomplish can reach international advanced level We are a growing company in the middle of China let's us save worker costing, so this is how we keep good quality and competitive prices for global valued customers.