Contact

Address:
Zhengzhou city in China.

Phone:
0086-371-86151827

Email:
[email protected]
Welding
Bebon welding with 55 employees, senior welding division 3, 2 welding engineers, technicians 8.There is a professional production team of integrating theory with practice.Company has in accordance with the domestic and international standard design, production of large steel structure and product ability.The main equipment are:H-beam welding production line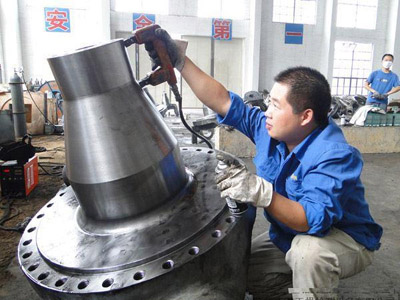 The cross submerged arc welding machine (double arc double wire)
The cross submerged arc welding machine
Argon arc welding machine
Dc manual arc welding machine
Box column (beam) welding production line
Automatic submerged arc welding machine
Welding process
is mainly organized according to the welding workpieces material quality, brand, chemical composition, weldment structure type, welding performance requirements. We had different welding process technology, such as hand arc welding, submerged arc welding and tungsten argon arc welding, melting polar gas shielded welding and so on. There are many different kinds of welding methods which can only be chosen according to specific situation. Determine the welding method, and then make welding process parameters, different kinds of welding process parameters, such as manual welding mainly includes: electrode model (or brand), the diameter, the type of current, voltage, welding power source, polarity connection, welding layer number, number, inspection methods and so on.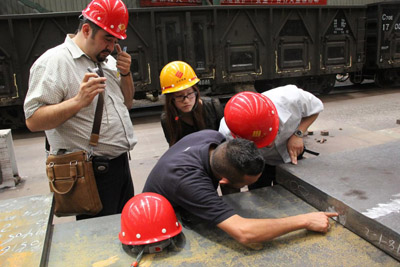 1, the welding material
The requirement of welding material with specific provision
To the requirements of welding wire, welding wire, shielding gas and the test standard of form a complete set of implementation such as complementarity, means and methods as far as possible with international standards in terms of generality, JIS, EN, AWS.
2, welding worker
Welding quality grade requirements for different have different levels of technical personnel and inspection personnel
According to the different welding difficulty level (A, B, C, D) choose different inspection personnel: to undertake welding difficulty level for class C and D level construction units, the welding technical personnel with senior technical titles.Nondestructive testing personnel should possess Ⅲ level qualifications (this requirement is higher than GB50205, CMA certification requirements and the national laboratory accreditation regulations)
Self-checking, process inspection;This unit (own) testing, commissioned (inspection qualification units);
Third party Inspection: inspection qualified independent third party appointed aptitude detection part
4, under static load welding quality structure test
Nondestructive testing
Ultrasonic testing
X-ray detector
Surface inspection
Magnetic particle inspection
Penetration testing