Contact

Address:
Zhengzhou city in China.

Phone:
0086-371-86151827

Email:
[email protected]
Structure steel girder truss
Bebon is a large company specialized in designing, modeling, manufacturing and installing steel structure projects. We can been undertaking a wide range of steel structure projects around the world. Bebon is one of the few companies that has advanced processing equipment, great capacity of production and processing in China. The company has participated in the constructions of many important projects.
The main Structure steel Girder truss use H beam steel, maintenance structure use Type C channel steel or Z shape steel, box cross-section steel, round pipe, round steel, L steel. The main Structure steel Girder truss use red lead anti corrosion paint, using hot galvanized treatment towards to seaside building, Maintenance structure use galvanized steel strip shape.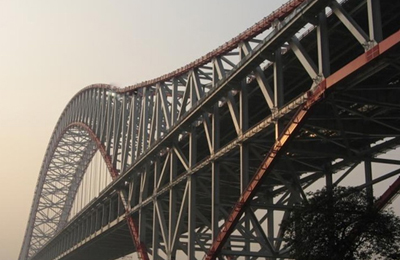 1. Steel bearing bracket of the industrial structures
2. Steel piles and supporting structure of underground works
3. Industry equipment structure like petrochemical and power
4. Large-span steel bridge components
1. Economy: The mode of truss is reasonable with low price and has an obvious advantage in this area; Can be designed as double-sides deck.
2. Convenient: Shorten the project construction time; Reduce temporaty support.
3. Security: Good performance of cracking resistance and fire resistance.
4. Reliability: good property to prevent earthquake.
As a Structure steel girder truss supplier, Bebon can supply Structure steel girder truss with good quality and best price. If you have need for girder truss, please be free to contact with us, we can make the quotation according to your drawings and we can also design and quote according to your requirements.