Contact

Address:
Zhengzhou city in China.

Phone:
0086-371-86151827

Email:
[email protected]
Steel and Concrete Column for High-rise Building
1.Heavy steel structure:
Steel structure building, compared with common reinforced concrete upper loads, light intensity is high, the ductility, good aseismic performance.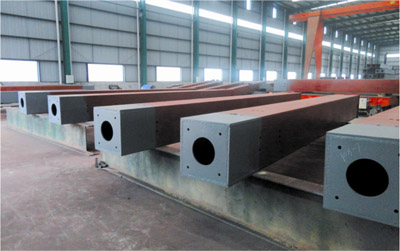 After the investigation results from home and abroad, steel structure building collapsed few in number. In housing, for example, the steel structure housing reinforced concrete gravity is about half the residential area, and improve around 4%.The upper loads, reduce the difficulty of working with reduced.
Especially the steel structures in the factory, reliable quality, high precision, easy installation, short construction, industrialization requirements, steel can be recycled, the lifespan of the building demolition of maturity, structure of solid waste, pollution of the environment
Materials: Q235 or Q345 or customized
Finishing: printing and galvanization
We are professional in supplying steel structure box column, we can independently accomplish milling, planning, grinding, rolling, pulling, boring, holing, drilling, cutting, bending, and blasting, also heat treatment, the works we accomplish can reach international advanced level. We are a growing company in the middle of China let's us save worker costing, so this is how we keep good quality and competitive prices for global valued customers.