Contact

Address:
Zhengzhou city in China.

Phone:
0086-371-86151827

Email:
[email protected]
Steel pipe truss structure
Steel pipe truss structure is generally applicable to the exhibition hall, booth, and stage. It has the advantages of beautiful appearance, convenient and practical. Compared with the grid structure, pipe truss structure saves the bottom chord ball node of the longitudinal bars and rack, and can meet the requirements of various architectural form, especially the construction of arch and arbitrary curve shapes have more advantages than the grid structure, with the same stability, but saving more materials.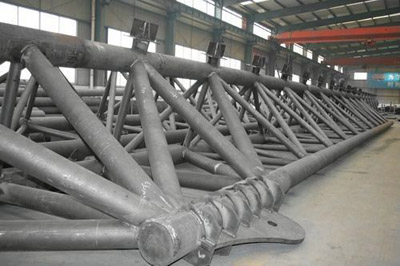 Material Grade Q235, equivalent to ASTM A36.
Grade Q345, equivalent to ASTM A572.
Design load Snow load: 20kg/m2
Wind speed: 36m/s
Earthquake: Grade 7
Paint:
1. Primer paint one coat 20-30 um
2. middle paint two coat 40-60 um
3. Finish paint one coat 20-30 um
We can supply steel pipe truss structure. We have departments including special equipment, design, production, quality control, security. We can have workshops like electrical, welding, holing, cutting, forging, assembly, heat treatment, machine processing. We welcome customer's inquiry and wish to have earlier cooperation.